I teach various group classes and workshops throughout the year at Greenville Center for Creative Arts. I offer private instruction in my studio and am available to teach through your organization. Contact me to check availability or to talk through the experience you need.
The best way to learn art is to try it! I offer a hands-on approach to learning to sketch, watercolor paint and make jewelry. My students' grow technically, artistically, and often emotionally, as art is good for the soul. Let's talk about what you are looking to learn and how I can serve you. 
I am available to teach the following workshops:
Pen & Ink
Illustration
Watercolor
Painting
Charcoal Drawing
Introduction to Metalworking
Intermediate Metalworking Jewelry Engraving
Jewelry Soldering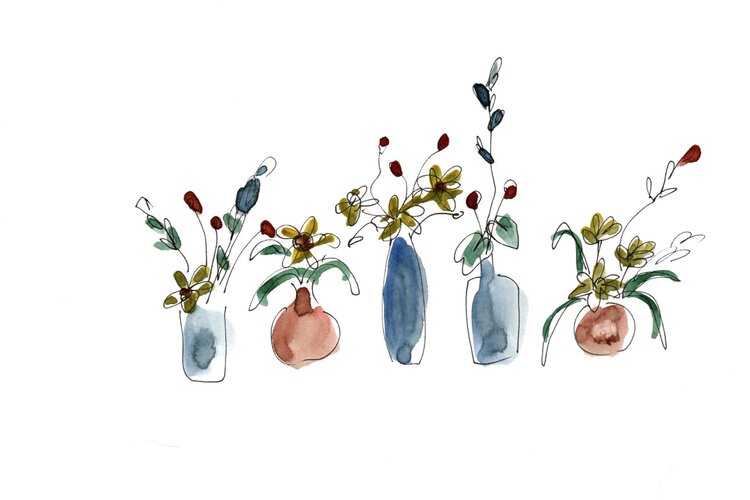 Watercolor Washes & Ink
Saturday April 10 10:00 AM - 4:00 PM
Greenville Center for Creative Arts
Learn how to get started sketching in ink and applying watercolor washes. This course is designed for everyone from beginners who have never picked up a brush to intermediate-level artists who are looking to try out watercolor painting and sketching. Instruction will include which pens to use for sketching, how to use watercolor washes most effectively, and an overview of the basic primary color palette. By the end of the class, you will be able to fill up your sketchbooks with simple, easy pen and wash paintings.
Sign Up
Nature Drawing
5 Week Class on Mondays starting April 12 | 9:30 AM - 12:30 PM
Greenville Center for Creative Arts
Learn to sketch with pencil, charcoal, and ink to gain an understanding of fundamental drawing techniques. You will practice basic drawing concepts while studying line drawing, perspective, and shading, as well as studies of organic shapes found in plant life and trees. The class will also cover contour drawings and quick sketches of familiar subjects to increase hand-eye coordination. You will also learn to work from small sketches and observations to create large-scale drawings.
Sign Up
Kate is a phenomenal teacher of all her skills. I've taken classes from her for several years from GCCA as well as personal one on one. She really helped bring my skills to another level.
I highly recommend Kate as a teacher & will do more classes in the future with her.
Glenda Gallagher
Kate is not only a lovely person but wonderful instructor. I have enjoyed many of her classes, learning new skills each time. I have noticed her students continue to return and I believe it is because she is able to meet people at whatever their skill level may be with patience and an ability to intuit  where direction is needed .I have watched beginners bloom under her guidance as well seasoned professionals learn and enjoy with Kate.
Robin Walton
I have taken classes in lost wax casting design with Kate Furman at Greenville Center for Creative Arts for the past several years.
She is a sensitive and capable teacher; able to support students at many different levels of experience in the same class.
I have taken jewelry design classes for many years in the Boston area and Kate is by far my favorite teacher.
Carol Justice
I have wanted to learn how make jewelry for a very long time, and last year I finally signed up for my first class with Kate. Her class exceeded all of my expectations. I learned how to use all the supplies and equipment needed to make wonderful custom pieces. I suppose that is what I expected. What I didn't realize was what a warm welcoming and fun environment it would be. I have now taken her class several times and have developed my skills with each new class.  I look forward to being able to sign up again. 
Anna Skerman
"Kate is an awesome instructor with the ability to motivate each student to develop their drawing skills no matter if you are a beginner or an advanced drawing student.
I never drew before, but I was always interested and fascinated with black and white drawings. With Kate's  instructions of different mediums and drawing techniques she really taught me to enjoy drawing.
Each time I choose an object to draw, it's challenging, but Kate helps me to focus on the object and interpret it my own way."
Claudia Fischer-Aust
I have had the pleasure of taking art lessons for watercolor, pen and ink, and sketching from Kate.  If you are seeking an instructor who cares and can truly teach, it is worth signing up for a private session, class or workshop.  She works with seasoned illustrators and artist "wannabes" like me.   
Add Kate to your list!"
"When I retired, I enrolled in Kate Furman's courses. Her methods and instructions are so practical! She knows what and how to teach and loves what she does. I thank my lucky stars to have been taught by her."
Anne Kaiser & Meg Wiebel
Best Local Visual Artist (Runner Up)
2020
Best Local Visual Artist
2019
Best Local Visual Artist
2018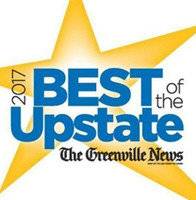 Best Local Visual Artist
2017
Best Local Visual Artist
2016